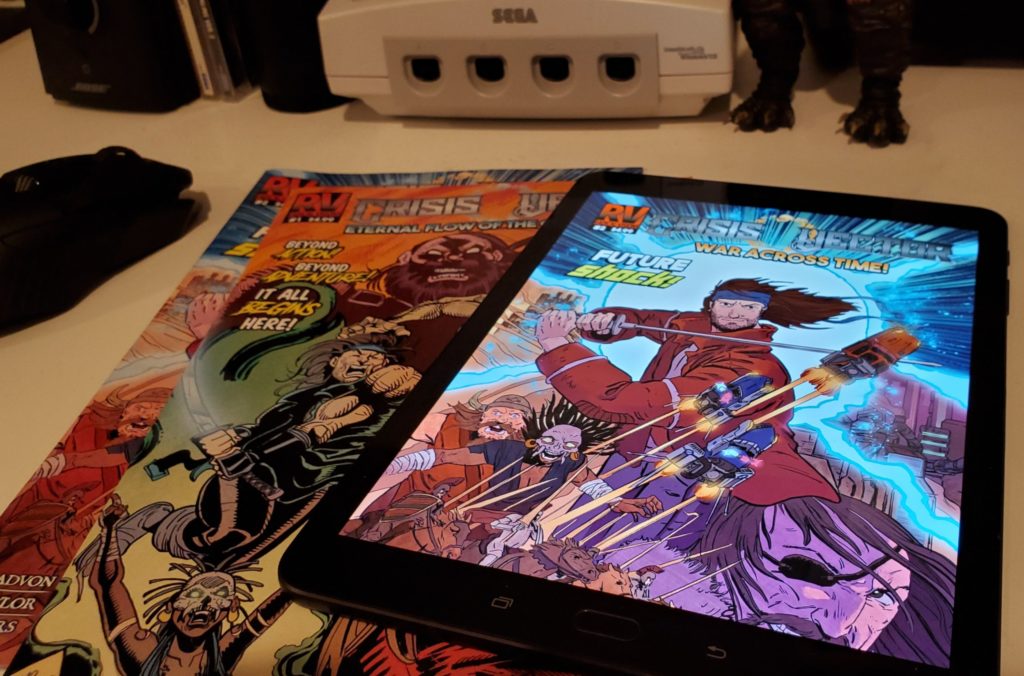 CRISIS VECTOR has gone digital! The current COVID lockdown is a bummer, with many of us around the world sheltered in place. I hope you all are staying home and staying healthy. Going out for comics is on hold for the time being, so I've made CRISIS VECTOR #1 and #2 available as digital editions on my shop page.
CRISIS VECTOR #1 Digital Edition
"It feels like an action sci-fi movie straight out of the '80s. Like Conan the Barbarian starred in Back to the Future." – Comic Book Yeti
CRISIS VECTOR #2 Digital Edition
"The ending to #2 is so awesome, it really brings all the chaos together for a second and it makes me feel like I need #3." – Comic Book Yeti.
The print editions of CRISIS VECTOR are high quality books, with glossy pages and professional class coloring. These digital editions follow those standards and are high-resolution PDFs for the best viewing experience. They're also DRM free, meaning your copy belongs to you and you are free to enjoy it on any device you like- PC, laptop, iPhone, Android, tablet, whatever- without any restrictions. The digital editions are $1.99 each.
I hope these comics bring you a small degree of escapism and enjoyment in these strange times.
ER