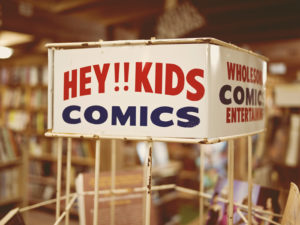 The 2015 Eisner Awards nominations have been released! Check out the full list here.
Just for fun, here are my picks for winners in each category:
Best Short Story
"Rule Number One," by Lee Bermejo, in Batman Black and White #3 (DC)
Love, love, love that this got nominated, and would love it even more if it won. In the sea of pain that is DC's New 52, Batman Black and White stands out as an island oasis of quality. Short stories are a lost art, and Lee Bermejo's piece nails the format perfectly.
Best Single Issue (or One-Shot)
The Multiversity: Pax Americana #1, by Grant Morrison & Frank Quitely (DC)
Perhaps the best single issue of the last decade. More than just a Watchmen rehash, Pax Americana is a surreal origami sculpture/puzzle of comic art. Read it 'til the staples get loose and you'll still find something new. Comic of the year for me by a large margin.
Best Continuing Series
Southern Bastards, by Jason Aaron & Jason Latour (Image)
The energy I felt by the end of the first arc was akin to Preacher in its heyday. Looking forward to see what comes next. Catch up now and put it on your pull list.
Best Limited Series
Little Nemo: Return to Slumberland, by Eric Shanower & Garbriel Rodriguez (IDW)
The literally found myself saying "How?" out loud when reading this, as in "How could these pages be so gorgeous?" This was a bit of a sleeper (puns are fun) yet everyone I showed it to fell in love with it. Bonus- It might make you revisit the Capcom Little Nemo game for NES, which is never a bad thing. Seriously, an amazing miniseries that deserves all of your money.
Best New Series
Ms. Marvel, by G. Willow Wilson & Adrian Alphona (Marvel)
Smart, funny, topical, and rife with energy– it's the very definition of what a Marvel comic should be. The book channels the spirit of '60s Marvel in such a deft way. G. Willow Wilson has done her homework and gives us a character whose triumphs, tragedies, and sewer adventures with Wolverine rank right up there with the best of Lee/Ditko Peter Parker. A modern classic in the making.
Best Publication for Early Readers (up to age 7)
Didn't read any of these, so N/A I guess :/
Best Publication for Kids (ages 8-12)
Little Nemo: Return to Slumberland, by Eric Shanower & Gabriel Rodriguez (IDW)
For real, you give this to a 10 year-old who is into art and they are going to go ballistic in the best possible way. Imagination fodder for days.
Best Publication for Teens (ages 13-17)
Lumberjanes, by Shannon Watters, Grace Ellis, Noelle Stevenson, & Brooke A. Allen (BOOM! Box)
If you know a cool young girl (or boy) in your life, Lumberjanes is the comic you want to hand them. Really cool energy.
Best Humor Publication
Groo vs. Conan, by Sergio Aragonés, Mark Evanier, & Tom Yeates (Dark Horse)
The masters at work. 'Nuff said.
Best Digital/Web Comic
Failing Sky by Dax Tran-Caffee, http://failingsky.com
The interface can be a bit unintuitive at times, but the artwork is absolutely fantastic. Reminds me of what a young Joe Kuburt would have done in the age of the Internet.
Best Anthology
Didn't read any on this list.
Best Reality-Based Work
Hip Hop Family Tree, vol. 2, by Ed Piskor (Fantagraphics)
The crossover appeal between hip-hop and comics dates back decades for both art forms, yet items celebrating that connection have been few and far between. More of this please. Great retro design to boot!
Best Graphic Album—New
Seconds, by Bryan Lee O'Malley (Ballantine Books)
Bryan Lee O'Malley grows up a bit and gives us a bittersweet fable for the Nirvana generation. Absurdly readable and streamlined.
Best Graphic Album—Reprint
Dave Dorman's Wasted Lands Omnibus (Magnetic Press)
You may know him from Dark Horse Star Wars covers, but Dave Dorman is so much more. If you don't know, this collection is a great way to find out.
Best Archival Collection/Project—Strips (at least 20 years old)
Winsor McCay's Complete Little Nemo, edited by Alexander Braun (TASCHEN)
What can be said about McCay that hasn't already been noted? Legend isn't a big enough word. Galactic Comic Art Godfather, perhaps? I dunno. McCay's work makes you realize modern life is nothing new.
Best Archival Collection/Project—Comic Books (at least 20 Years Old)
Steranko Nick Fury Agent of S.H.I.E.L.D. Artist's Edition, edited by Scott Dunbier (IDW)
Same applies to Steranko. These pages still feel fresh, new, and daring. The IDW presentation is incredible. A mighty coffee table book!
Best U.S. Edition of International Material
Corto Maltese: Under the Sign of Capricorn, by Hugo Pratt (IDW/Euro Comics)
Best U.S. Edition of International Material—Asia
All You Need Is Kill, by Hiroshi Sakurazaka, Ryosuke Takeuchi, Takeshi Obata & yoshitoshi ABe (VIZ)
Best Writer
Grant Morrison, The Multiversity (DC); Annihilator (Legendary Comics)
Don't call it a comeback. The Multiversity brings everything Morrison's done for DC Comics full circle, creating a synthesis of experience that is not to be missed.
Best Writer/Artist
Stan Sakai, Usagi Yojimbo: Senso, Usagi Yojimbo Color Special: The Artist (Dark Horse)
Stan's the man.
Best Penciller/Inker
Frank Quitely, Multiversity (DC)
Quitely's Pax Americana is one for the record books. An incredible achievement. He doesn't produce much, but when he does…man, it's a doozy.
Best Painter/Multimedia Artist (interior art)
J. H. Williams III, The Sandman: Overture (Vertigo/DC)
Best Cover Artist
Phil Noto, Black Widow (Marvel)
Phil Noto should draw every cover for Marvel for all time.
Best Coloring
Nelson Daniel, Little Nemo: Return to Slumberland, Judge Dredd, Wild Blue Yonder (IDW)
Daniel's been on a tear at IDW for years now, and his work in Nemo and Judge Dredd was awesome. Hope he gets the win.
Best Lettering
Todd Klein, Fables, The Sandman: Overture, The Unwritten (Vertigo/DC); Nemo: The Roses of Berlin (Top Shelf)
Todd Klein, one of the greatest letters of all time. I believe he still does it by hand, the old fashioned way. His work in Sandman: Overture is artistry all its own.
Best Comics-Related Periodical/Journalism
Comic Book Resources, edited by Jonah Weiland, www.comicbookresources.com
When it's comics news, it's CBR.
Best Comics-Related Book
75 Years of Marvel Comics: From the Golden Age to the Silver Screen, by Roy Thomas & Josh Baker (TASCHEN)
Roy Thomas is the best person to tell this story. I'm about halfway through and it's been a joy to read.
Best Scholarly/Academic Work
Didn't read any of these, so another N/A
Best Publication Design
Batman: Kelley Jones Gallery Edition, designed by Josh Beatman/Brainchild Studios (Graphitti/DC)
Kelley Jones came onto Batman at a weird time for the comic market. In the white-knuckled insanity of the '90s, he channeled '70s gothic. This gallery edition presents his work in its stunning glory. A really nicely put together book.