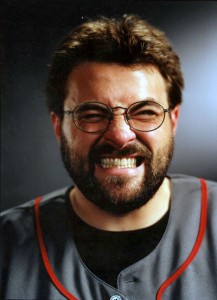 It's hard to peg how big of an influence Kevin Smith's "Clerks" had on my artistic sensibilities growing up. While I was scrubbing pots and pans at IHOP, emptying greasetraps at McDonalds, and, yes, working the cash register at convenience stores, the idea that Smith, a dude of my ilk whose New Jersey landscape mirrored my own bleak Central Massachusetts was able to break out of the drab northern lockdown and unleash creativity on the world constantly remained in my mind and gave me fuel to write.
So it was crazy special to hear a few nuggets from the fryolator of my brain dispensed from Smith's mouth at the taping of "Jay and Silent Bob Get Old" at the Wilbur Theater in Boston last weekend.
Listen to "Jay and Silent Bob Get Old" via the link below. Kevin Smith reads my tweet at around the 7:30 mark.
http://hw.libsyn.com/p/b/f/9/bf92952c1a021523/getold-52.mp3?sid=3b307e43eef023bff887f57b2b8cd886&l_sid=21124&l_eid=&l_mid=2743656
Anyways, big up to Kevin Smith. The dude puts on one hell of a live show, so if you get the chance check him out in your town.