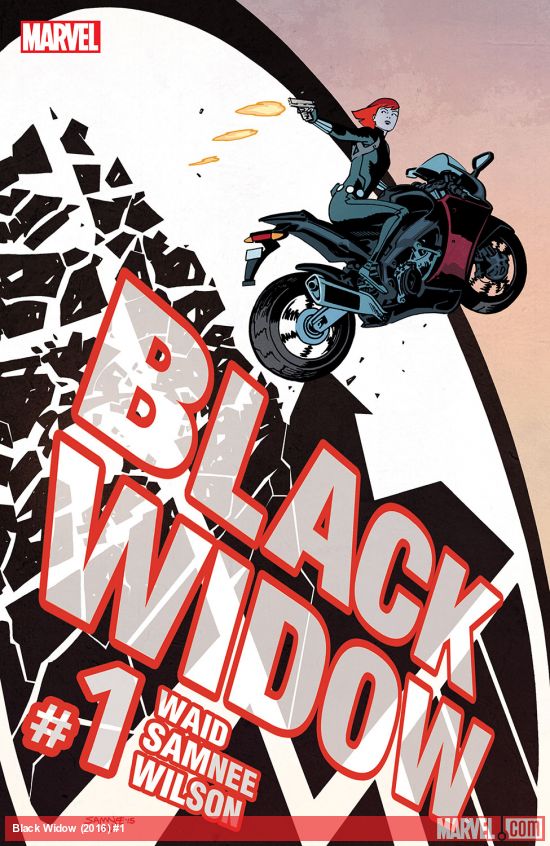 Black Widow #1
Review by: Erik Radvon
Story by Chris Samnee and Mark Waid
Art by Chris Samnee
Color Art by Matthew Wilson
Lettering by VC's Joe Caramagna
Cover by Chris Samnee & Matthew Wilson
Publisher – Marvel Comics
Cover Price – $3.99(USD)
Release Date: Mar 2, 2016
Rating: 4/5 stars
There's a pendulum in comics, one that swings between artist-driven stories and more descriptive, writer-driven tales. Black Widow #1 from writer/artist Chris Samnee most definitely falls on the art-driven side of the spectrum, yet it in its brisk, dialogue-sparse pages it excellently conveys a large sense of story without beating readers over the head with it. The end result is both captivating and somewhat refreshing.
Samnee produces a beautiful, exciting issue reminiscent of the Marvel style of yore, before superheroes spent time chatting around coffee pots. The methodology harkens back to the days when Stan Lee typed out "Galactus attacks the Earth" and Jack Kirby took it from there. It doesn't hurt that Samnee is joined by co-writer Mark Waid on script duties and color artist Matthew Wilson, hot off their recently concluded and highly-acclaimed run on Daredevil. Together again on Black Widow, the team achieves a real sense of harmony, letting Samnee shoulder the bulk of the storytelling responsibilities while accentuating and enhancing along the way. Waid's dialogue is sparse but effective, adding just the right amount of audio without drawing away from the propulsive visuals. Matthew Wilson's colors are a huge addition to the book, imbibing Samnee's work with an element of richness and contributing a great deal to the overall tone of the story.
The issue is one extended chase scene, with the premise (perhaps of the entire series?) summed up succinctly on page one. From there, Samnee's retro-bold artwork accelerates full throttle and doesn't let up. The rapid, potent art-driven storytelling might not be for everyone. There are several pages without a spoken word or even a sound effect. Don't let the surface appearance fool you- this latest take on Black Widow delivers and pulses with story throughout.
The proceedings are fast, but not insubstantial. With each panel, Samnee conveys mood and emotion. Natasha Romanoff doesn't say much verbally, but the steely look of determination in her eyes speaks volumes. We see her thoughts, and with remarkably subtle facial expressions Samnee makes sure her voice is heard.
That said, there are no overly deep insights into Natasha's history here, no supporting cast roll call or move to a new city that so often accompanies these kind of relaunches. We don't see her apartment or meet her wacky neighbors or listen to panel after panel of her tortured inner dialogue.
Instead, we're privy to witnessing Black Widow being the best at what she does, and doing so furiously, deftly, and with a single-minded purpose that is nothing short of compelling. And while the issue grabs hold and the Wolverine-like approach works well, there is the slightest sense that it would be cool to get a peek at more of what's going on in Romanoff's head. Hopefully that's to come in future issues.
Black Widow #1 offers about as fresh of a start as a series debut can, delivering a Natasha that is mysterious yet instantly identifiable. With stellar artwork from Chris Samnee and Matthew Wilson, along with storytelling support from Mark Waid, this first issue successfully lands its hook and kicks off an exciting new chapter for Marvel's famous superhero spy.