Hyperkin has delayed the release of its RetroN 5 gaming console until Q1 2014. The company's blog states that faulty connector pins caused the delay.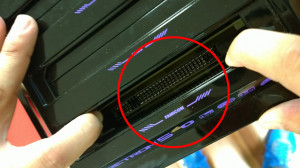 Read Hyperkin's Retron 5 delay blog post – http://hyperkin.com/blog/2013/11/hyperkin-to-delay-retron-5-release/
The RetroN 5 is touted by Hyperkin as an all-in-one solution for playing NES, SNES, Genesis and GBA cartridges. The console was originally scheduled for December 10 in both the US and EU, with an MSRP set at $99.99 in America and €89.99 in the European territories. Hyperkin now says the console will be released sometime in the first quarter of 2014, but no firm date has been set.
While the delay is likely disappointing for those eager to try the HDMI-connected retro gaming console, it's a good thing that Hyperkin identified the connector pin issue before launch and is taking the necessary time to remedy the situation. Bending or otherwise faulty connector pins would greatly undercut the attractive high-tech features of the RetroN 5 and conceivably could cause damage to carts. The last thing Hyperkin wants to do is court retro gamers and then unintentionally destroy their collection of imported/vintage game cartridges. Hopefully Hyperkin's vendors and partners can either remedy the part in question or find a suitable replacement.
Read my previous post outlining the RetroN 5's feature set: https://www.radvon.com/retron-5-is-the-throwback-console-we-deserve/
What do you think of Hyperkin's delay? Does the pushed back launch date dampen your enthusiasm for the RetroN 5, or are you glad the company is addressing potential hardware issues before launch?