CASTLE DOOMENSTEIN is my completely pointless first Interactive Fiction "game" made using Twine! Twine is an open source tool for creating non-linear (or in my case, pretty darn linear) text adventure games. It's a super cool project that is making adventure game creating easier than ever before. The best part is Twine leverages HTML to make coding relatively simple and exporting to the Web a breeze. Learn more about Twine here: twinery.org
CLICK TO PLAY CASTLE DOOMENSTEIN!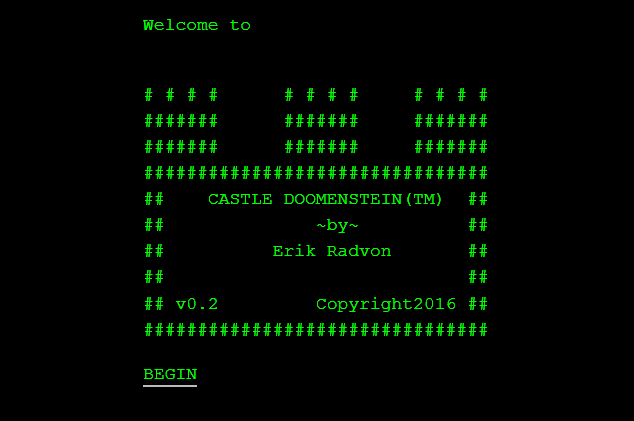 **CHANGELOG**
V0.3 – March 25, 2016
Fixed many, many, many typos. Seriously, so many typos.
Additional improvements for improved stability.
v0.2 – March 16, 2016
Increased font size from 12pt to 18pt for easier readability across a variety of screens!
Corrected yet even more typos.
Fixed missing paragraph tags on a couple screens, ensuring that choice selections are displayed vertically.
Added to the Interactive Fiction Database and uploaded to the IF Archive!
CASTLE DOOMENSTEIN on IFDB – http://ifdb.tads.org/viewgame?id=rtsnzioq8b37nbv3
CASTLE DOOMENSTEIN on the IF Archive – Link pending
v0.1 – March 14, 2016
Added version numbering to main title screen.
Added Room Names / Section Titles to each screen.
Fixed numerous typos.
Standardized all kill screens to clearly state YOU ARE DEAD.
v0.0 – March 14, 2016
First Release!