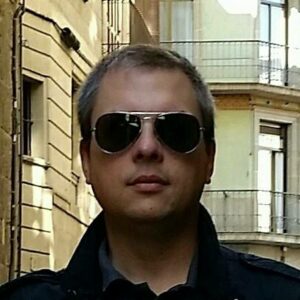 Erik Radvon is a writer from Massachusetts with a background in journalism, comics, and technology.
The 2009 Worcester Magazine article "Hackertown" by Erik Radvon was adapted for television by Discovery Networks and the Smithsonian Channel in 2012, airing worldwide as part of the popular series "The True Story." Read more here.
In 2018, Erik contributed two features to the legendary magazine Famous Monsters of Filmland (issue #290) covering the 30th anniversary of John Carpenter's THEY LIVE and the 35th anniversary of RETURN OF THE JEDI. Learn more here.
In 2019, Erik returned to the pages of Famous Monsters to cover the 40th anniversary of Ridley Scott's ALIEN in issue #291.
Erik's comic book writing includes Crisis Vector (2018) with Samir Simao and Ross Taylor on art, and Voodoo Bird and Crypt Zero (2106), both with art by Rob Croonenborghs and lettering by Micah Myers. See Comics here.
Erik has also written stories published in several anthology projects, including "Mantua County" in Shakespeare Shaken (2012), "Generation Nirvana" in The 27 Club (2015, Harvey Award Nominee for Best Anthology) and "The Call Up" in Colonial Comics Volume II, New England, 1750-1775 (2017), and "A Lonely Place of Trying" in Pros and (Comic) Cons from Dark Horse Comics (May, 2019). He also wrote and programmed the text adventure video game Castle Doomenstein(2016) and gained notoriety for popularizing the "Localize Mother 3" movement via a sign at a WWE wrestling show.